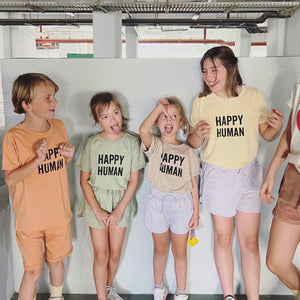 HAPPY HUMAN
The favourite among many, the organic cotton t-shirts are made in Portugal by CISS. Every season they come back in different colours. There's always a matching short or jog pants to combine it with.
For this time of the year or when you're traveling, the happy human sweaters are a perfect combo with the jog pants.
SHOP HAPPY HUMAN
Les Vedettes
Just before covid and after being in the kids clothing business since 2016, the idea of my own collection came alive, to finally launch 'Les Vedettes' in feb 2022.
Together with French designer Sophie we created the DNA of Les Vedettes. The goal is offering beautiful, comfortable kids clothes in the most amazing colours. Working with certified fabrics is a must and the collection mainly consists of muslin cotton.
Les Vedettes is made in Dubai.
Most of my customers come back once they've tried it out and only that means a lot to me.
About Les Vedettes...
My mission is to make kids happy with what they're wearing, to help them feel confident to shine. On each garment on the left backside you see an embroidered star that is referring to the inner star of the child wearing it.
SHOP LES VEDETTES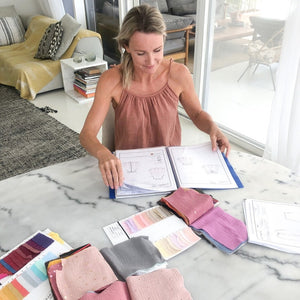 Looking for unique presents for the festive season? Check out our postcards and prints in 3 sizes!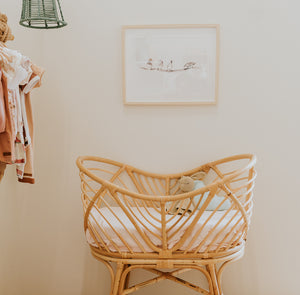 Inspired by nature...
10 drawings by Belgian artist Lieselot Cosijns have been printed in black ink on high quality paper to offer you timeless and affordable art, to turn any wall into something unique . The love for nature is expressed through the beautiful palm trees and different animals that you can find in this limited edition collection for Les Vedettes.
Create calmness and a soothing effect in your children's bedrooms with their favorite drawing. Something precious they can keep forever... a sweet reminder of their childhood.
SHOP ARTWORK
Fast moving items from Les Vedettes kids collection.
Matching women's clothes
Les Vedettes offers a small selection of women's clothes in the same fabrics and colours to match your minis.
SHOP LES VEDETTES WOMEN